Masai Guide


TIPS FOR PACKING FOR YOUR HOLIDAY

Masai guides Like everything else in life, we learn from our mistakes, and that includes packing for a trip away. Whether you're heading off to a holiday cottage, a beach holiday, a three-day business trip or an outdoor adventure, it pays to optimise your suitcase space, minimise the kilos and cut down on the creases. That doesn't mean you should only travel with hand luggage, but it does mean packing wisely. Here are Masai's top tips for a well-packed holiday suitcase: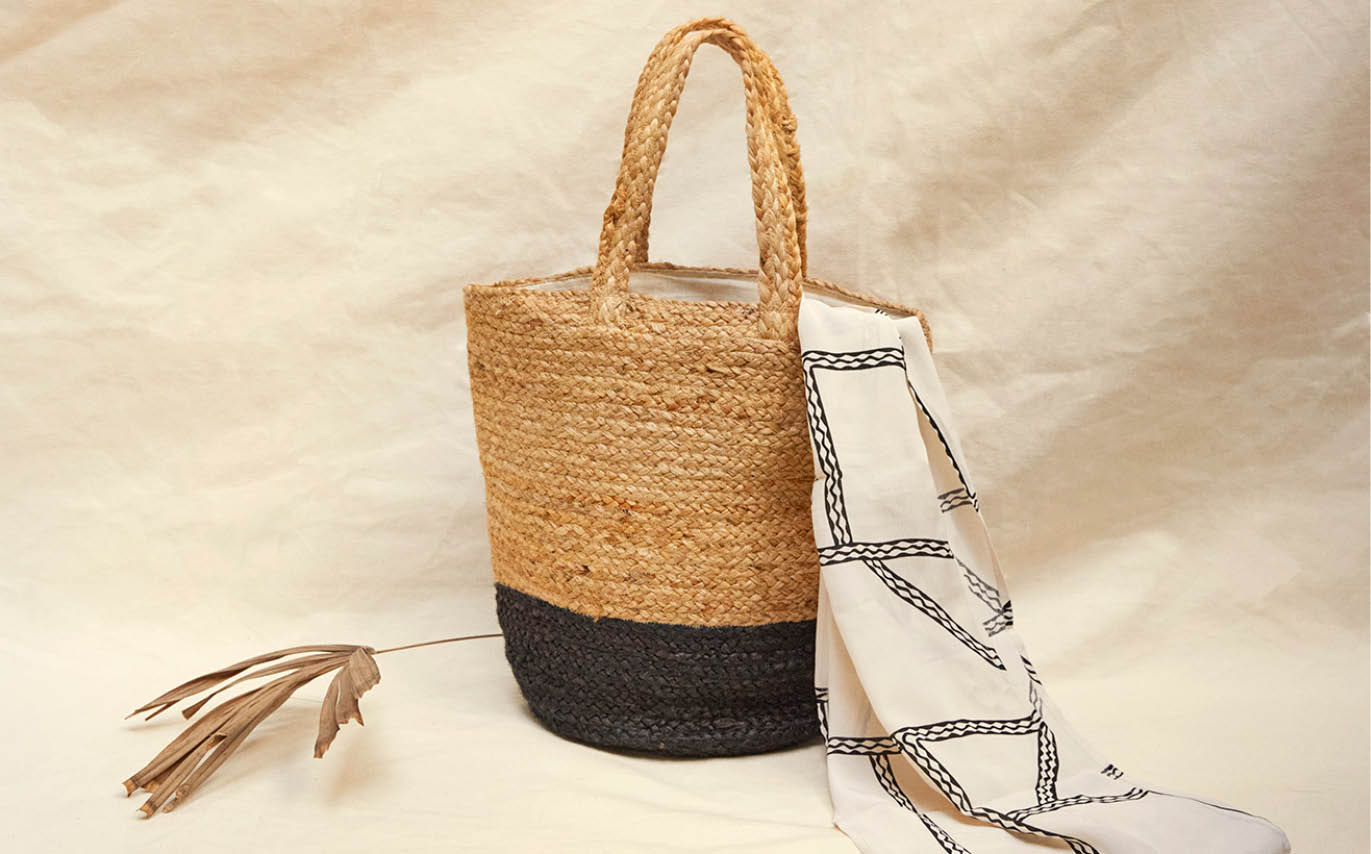 PACK IN SETS
If you bring clothes that you won't need, you're wasting unnecessary time packing them, then unpacking them at your destination, and probably washing and ironing them again when you get home. Plan your sets carefully. Instead of packing a selection of clothes to suit the weather or the type of holiday you're going on, pack complete sets. If you're going to the beach, pack your swimsuit or bikini and clothes you can wear over your swimwear. But also pack a hat, sunglasses, beach bag and flip flops, if that's what you'll need. Use each item of clothing in multiple sets and choose colours and patterns that go well together so that you can mix and match. Remember that we change clothes more often in summer than in winter because of temperature differences between day and night. So even if the weather is good, you also need evening sets, as well as sets for shopping trips or hikes.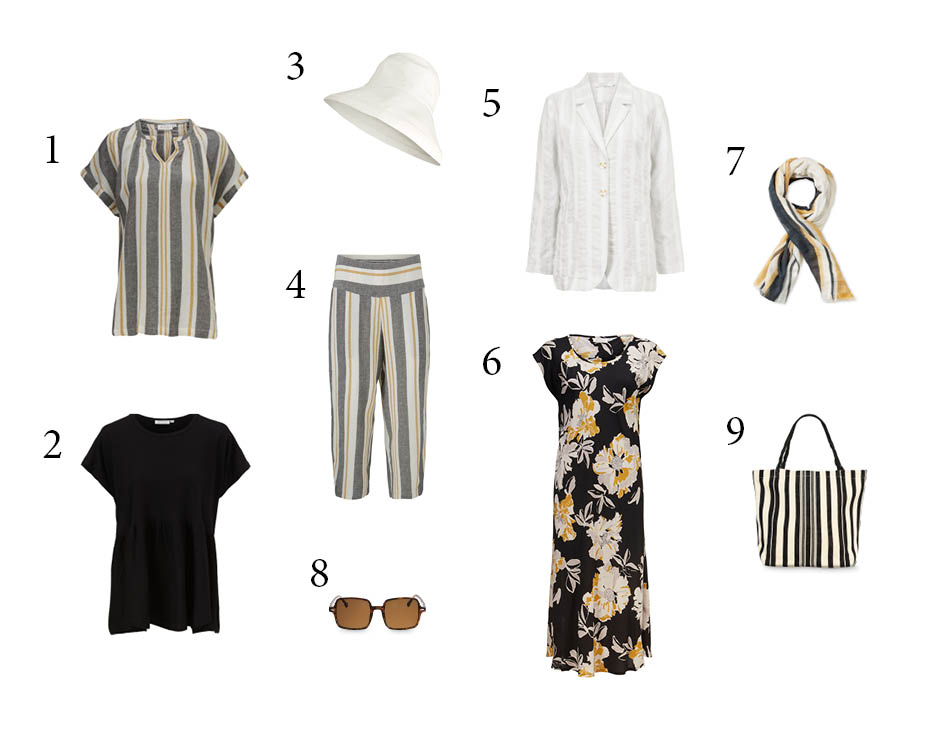 PACK WISELY
The "5, 4, 3, 2, 1" formula is suitable for most holidays. 5 sets of underwear/socks, 4 tops, 3 bottoms, 2 pairs of shoes and 1 hat. Next, add everything that will meet your needs for this particular holiday: swimwear, jacket, dress, training clothes, etc. Do not pack for more than a week. You can always wash your clothes if you need to, so forget all about the "just in case I need it" category. Instead, make sure you have flexible items of clothing. Think light layers, so you can wear a cardigan under a jacket if it gets cold. Or pack a scarf that doubles as a skirt on the beach. And remember to pack a really nice dress and the right bra for it. You never know what invitations you might get on your trip.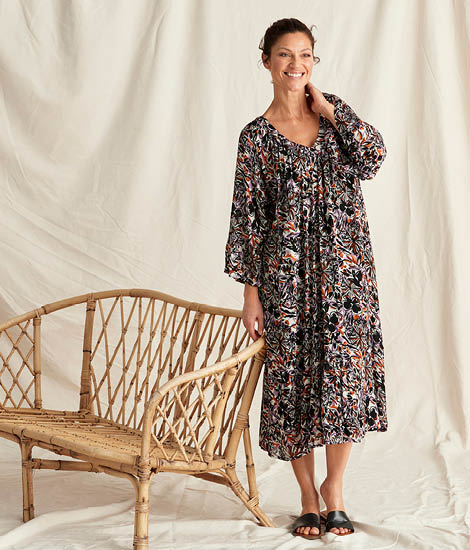 Tip:
A voluminous dress with sleeves is lovely to have for summer nights when you want to look elegant, while also avoiding mosquito bites.
SHOP DRESSES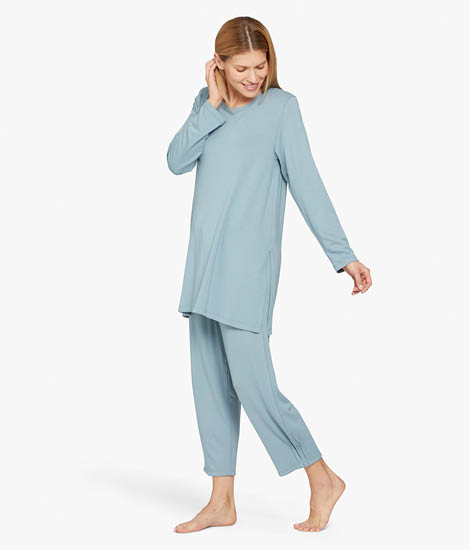 Tip
If you're travelling with friends, you may need some presentable loungewear that you can sleep in or wear around the holiday apartment or at the hotel.
SHOP LOUNGEWEAR
THINK TETRIS
When you pack your suitcase or travel bag, the goal is to fill every empty space - just like in the game Tetris. Fill your shoes with small items like socks and belts. Then place them at the bottom, heel first. Preferably in a shoe bag to protect your clothes from dirt. Then place heavier items such as books, jewellery and chargers on top of them, underwear and swimwear - preferably in fabric bags. The top layer is your clothes. Instead of folding the clothes, roll them. When you roll your clothes, they take up less space and don't get as creased. If you are flying to your destination, remember to pack your toiletries so that they are easy to access. Not because you need them yourself, but because you may be asked to show them at security. Always make sure you pack separate products for the journey. You may need a toothbrush or a refreshing spray. Buy a clear toiletry bag so it's easy to see what's in it.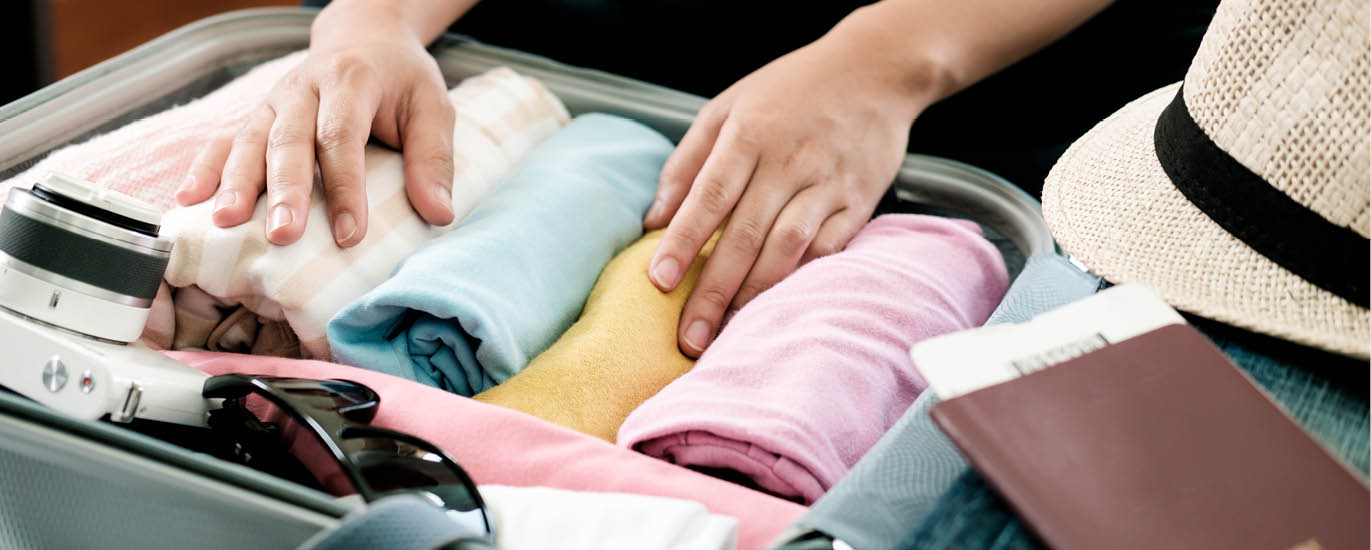 WHICH FABRICS?
Whether you consider yourself a person who sweats a lot or not, it's worth giving some thought to the fabrics your summer clothes are made from. Large sweat patches are neither elegant nor comfortable, so think breathable fabrics. At Masai, we recommend you pick summer clothes made from cotton, linen and viscose. Read why here: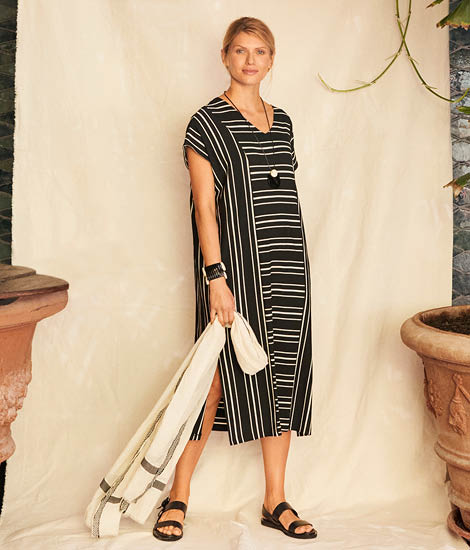 VISCOSE
Viscose is great at absorbing moisture, it's breathable and doesn't become static - everything you need for your summer wardrobe. Viscose is popular all over the world because it can be both shiny like silk and matt like cotton and linen. Viscose falls beautifully over your body, which makes it the ideal fabric for flowing summer dresses. At Masai, a large part of the viscose we use is FSC®-certified, which means that it is made from wood fibres from sustainable and responsible forestry with respect for biodiversity and the forest's local population.
READ ABOUT FSC
SHOP VISCOSE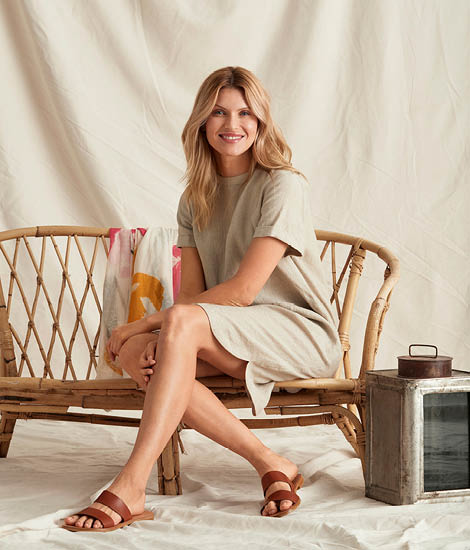 LINEN
Linen is a temperature-regulating fabric that conducts heat away from the body. It absorbs moisture, dries quickly and often feels refreshing in warm and humid weather. Linen dries slightly quicker than cotton and the fabric seems stiffer, which means that it doesn't stick to the body as much. Don't worry about your linen creasing on your trip - it's part of its charm and is what makes it so beautiful.
LINEN GUIDE
SHOP LINEN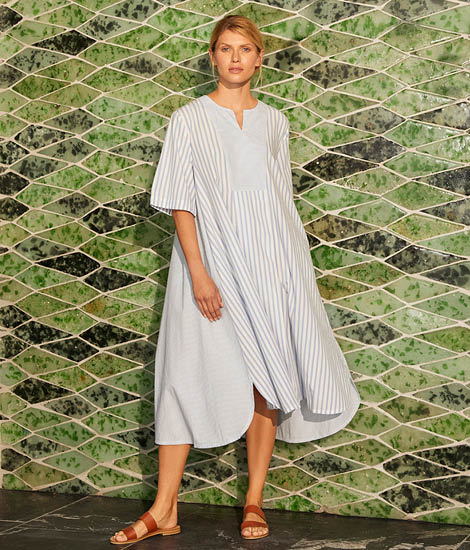 COTTON
There's a reason why your summer wardrobe consists of so many cotton dresses, shirts and skirts. Cotton is a natural fibre that allows air to circulate and move freely through the fabric, ensuring airflow that dries out any moist areas of the body. A light cotton fabric also absorbs moisture, and even though that may sound like a bad idea, it's actually better to dress in fabrics that absorb moisture and then dry again than to dress in fabrics that reject sweat. If the fabric rejects moisture, your sweat drips down your body and you eventually end up with damp clothes - which don't dry. Be aware, however, that cotton can get a bit creased, which is why it's worth using the rolling technique when packing.
SHOP COTTON
DO YOU HAVE A TRAVEL DRAWER?
When you come home and need to unpack, remember to put your travel items back in the "travel drawer". This is the place to keep your passport, adapter, spare currency, toiletry bag and fabric bags, etc. If you don't have one, make one. It makes packing so much easier!