Responsibility in partnership
Responsibility in all aspects is built on cooperation, partnerships and respect for one another and it has always been important to Masai to cooperate with all our partners on fair terms and with respect of their livelihood, their work conditions and their Human Rights. Masai have production partners in India, China, Turkey and Portugal, and we have a deep-felt responsibility towards all the skilled women and men working with the making of our garments – no matter which country. Through 5, 10, 15, 20 or nearly 30 years of partnerships, they have built up their businesses and their skillsets to a point, where they're considered important co-workers and not just faceless people on the other side of the world. Without them, Masai would not be able to make the beautiful and long-lasting garments that you've known and loved for years or succeed with implementation of more responsible practices.
At Masai, we recognize our responsibility in many areas. In very general terms, towards our Planet. Towards the biodiverse eco-systems. Towards the oceans of the World. And most certainly also towards the people on the planet too. We have a responsibility towards our employees and colleagues. Towards you as our customer. Towards our business partners. And especially towards the people around the World, who contribute to the making of the Masai garments that you have worn and loved since 1992.

How we live up to our responsibilities is a complex and ongoing work, and sometimes solutions can be counterproductive against one another. Meaning that one decision made to be responsible in one particular aspect can have a negative impact on another.

We recognize that our decisions affect people in many ways and therefore our commitment to thoughtfulness is a key factor in decision-making for us. We want to be aware and make our decisions with eyes open to see the full picture – any potential positive and negative outcomes and the balance between the two.

And so, this has also been and still is the case, when it comes to our production partnerships. Several times, we've been asked the question: "Why don't you produce more locally, wouldn't that be more responsible?" And we do agree that when looking solely at the impacts of transportation – yes, in this case it would be more responsible to end our yearlong partnerships in Far East Asia and start up new ones in Europe. But applying such a narrow focus when making our decisions would indeed be irresponsible too. Because what about the people?
Masai have production partners in India, China, Turkey and Portugal, and we have a deep-felt responsibility towards all these women and men and their families – no matter which country. Masai work with them on all levels, both on the distance and onsite, and we value their skills and dedication. It's important to understand that these women and men are also key players and working very dedicatedly with Masai in driving the necessary development and implementing more sustainable practices in their productions and throughout our supply chain.

Leaving our production partners behind would jeopardize their livelihood, their work conditions and their Human Rights, and therefore we will go a long way to protect and maintain our cooperation and partnership with our partners, as part of our responsibility towards them and our commitment and approach to Sustainable Development Goal #17.
Our five goals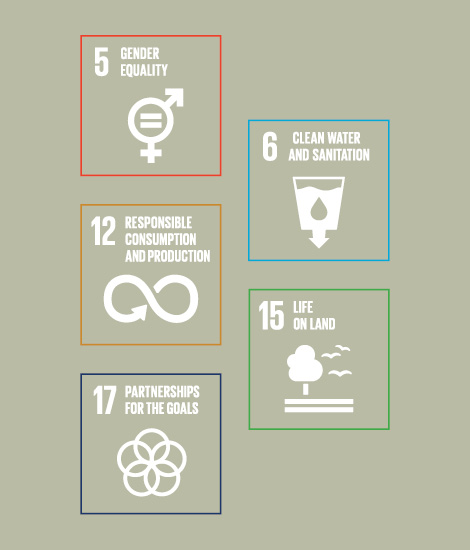 At Masai, we take the Sustainable Development Goals (SDGs) very seriously and we have carefully selected the five goals we are working on for our common future. We chose the goals where we as an independent organisation can make the biggest difference by making genuine improvements. The first big step in our efforts was to FSC®-certify part of our viscose. Meanwhile, we are also working on goals that centre around structural change, and which we can't achieve on our own. We are therefore partnering with organisations that will help us achieve results in areas such as women's rights and the overall achievement of the SDGs.
Read more