Following a thorough study of all 17 SDGs, their targets and indicators, Masai has chosen these four Goals as our main focus. The first three Goals represent the areas in which we could potentially have the largest negative impact on our surroundings, and therefore also the areas where we have the greatest opportunity to make real and meaningful improvement. The last Goal is meaningful to us, as we recognize the far-reaching scope of this challenge, and no company, country or human being will be able to drive the necessary change on their own. We need strong and innovative partnerships to succeed.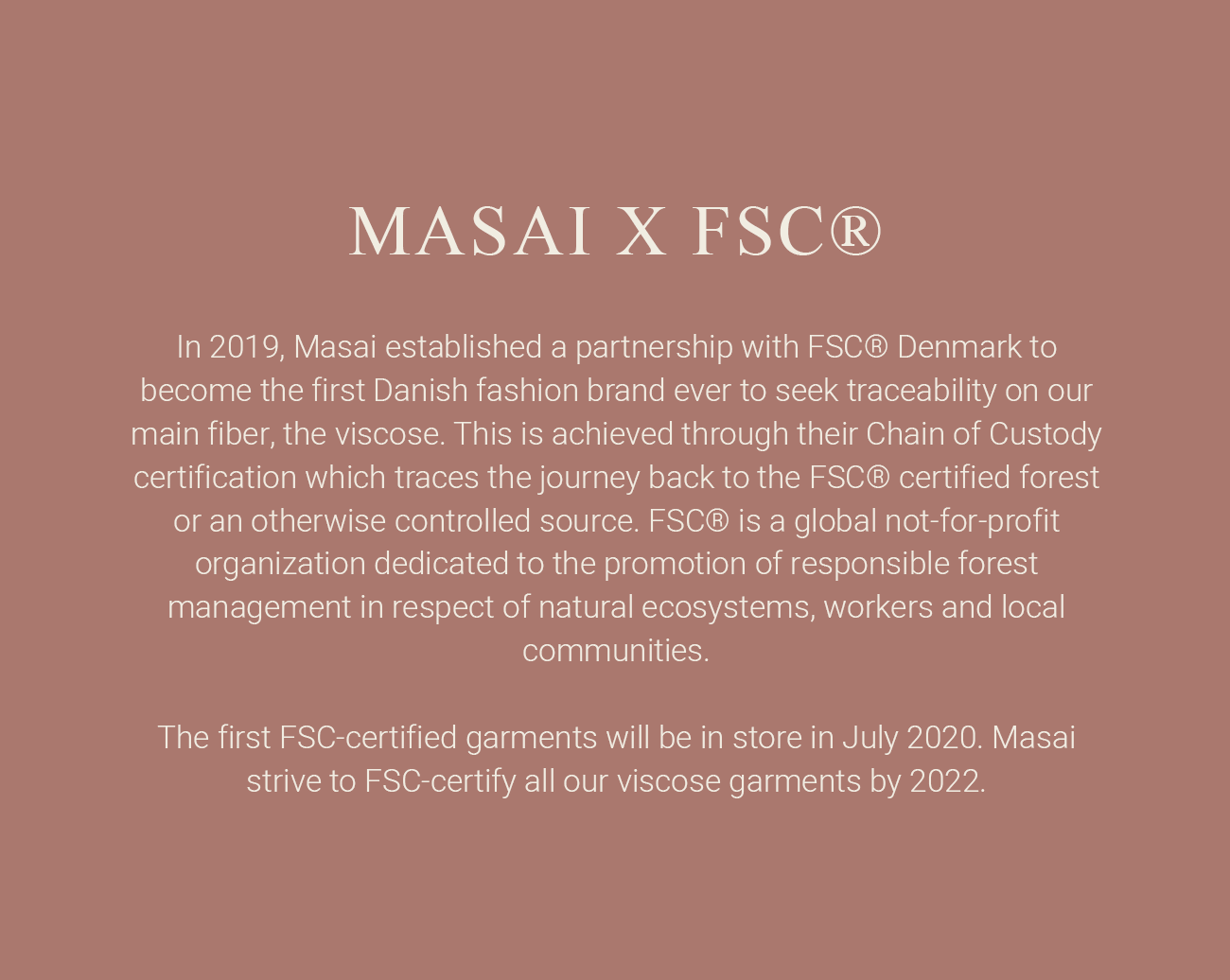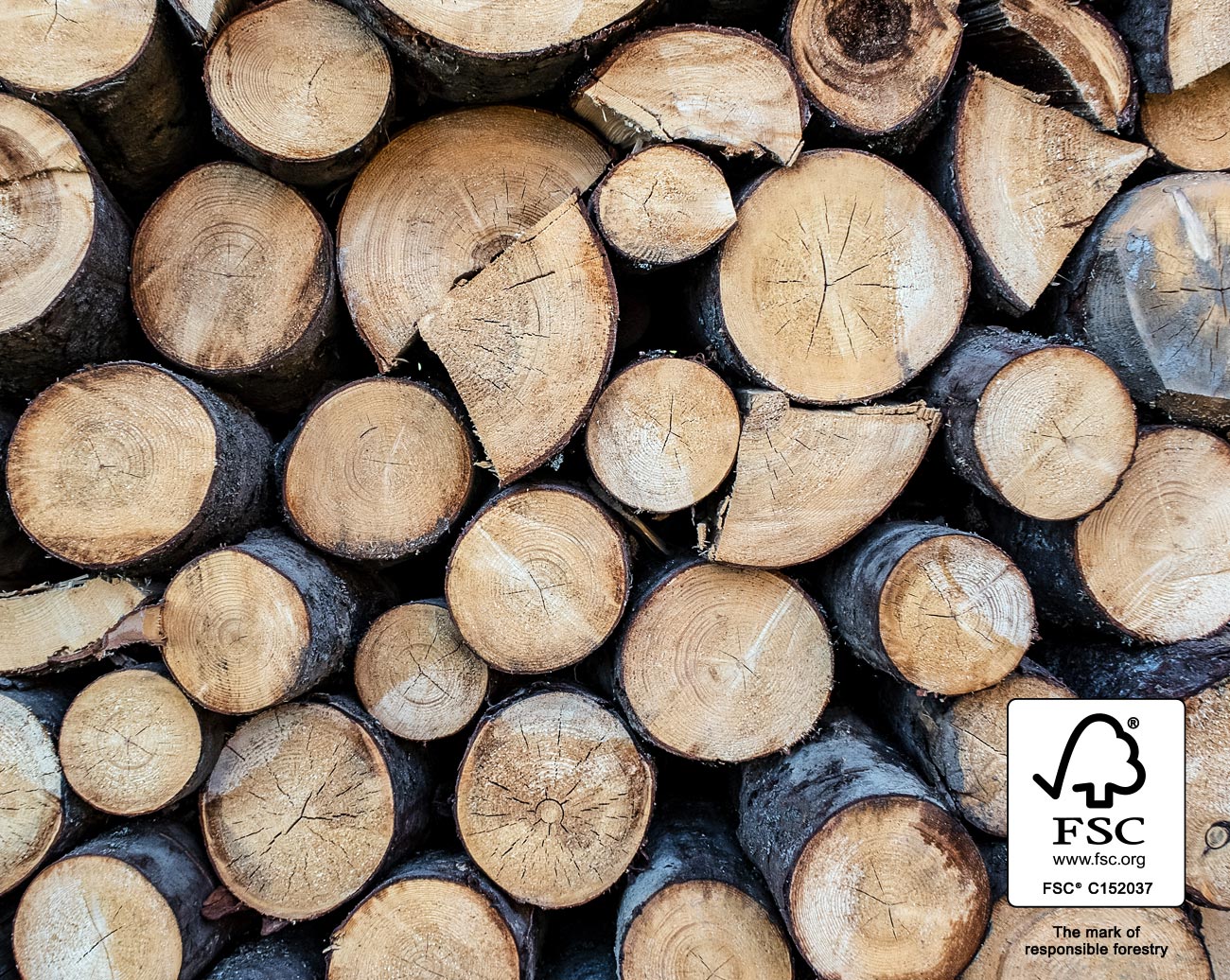 Masai & Canopy
Masai has established a new partnership with the recognized environmental organization, Canopy. As a Canopy partner, Masai have strengthened our commitment to protect the world's forests through our approach to procurement of both fabrics for our collections but also paper articles and packaging. Masai will work together with Canopy and our suppliers to support collaborative and visionary solutions that protect the world's forests and in particular remaining ancient and endangered forests.

About Canopy
Canopy is a not-for-profit environmental organization dedicated to protecting forests, species and climate. Canopy has collaborated with more than 750 companies to develop innovative solutions, make their supply chains more sustainable and help protect our world's remaining ancient and endangered forests. Canopy's partners include Eileen Fischer, H&M, Next, Zalando and Zara. Canopy's work relies on the support of individual donors who share the passion for the planet.

Locally established, globally engaged
At our core, Masai is a Danish design brand, established in the heart of Copenhagen. But we are also deeply connected to the world around us through close partnerships with suppliers across the globe – some of which have even been with Masai since the beginning in 1992. Long-term and close relations are a cornerstone of the Masai business and they enable us to motivate and engage our partners in a shared commitment to thoughtfulness.

Masai is committed to thoughtfulness towards all people engaged in the Masai supply chain and the Masai collections. We, as well as all Masai suppliers, acknowledge and act in accordance with our Code of Conduct. The CoC draws on international labour standards protecting workers' rights such as International Labour Organization (ILO) conventions and declarations, the United Nations (UN) Guiding Principles on Business and Human Rights as well as guidelines for multinational enterprises of the Organization for Economic Co-operation and Development (OECD). In addition to the production site visits and evaluations by the Masai team, all suppliers are audited regularly by independent auditors to assure compliance and positive development.
Pass on the Joy. That's the message of the cooperation between Masai and the Danish Red Cross. In an effort to further prolong the life cycle of the Masai garments already in our customers' wardrobes, Masai has established a return system in our local Masai stores, enabling customers to return their pre-loved Masai garments, which are then passed on to the Red Cross for reselling in their shops. The clothing donations are accompanied by annual donations from Masai to support Red Cross humanitarian initiatives – both in Denmark, e.g. Action against Loneliness, and across the world.

Despite all efforts to completely avoid leftover material from our productions, the fact is that each season we are always left with some extra metres of fabrics not used in the production of our garments. In 2019, we have been in close dialogue with our production partners to make a special effort to use the excess fabric for meaningful purposes. One of the initiatives was presented in September 2019: Special edition necklaces made entirely from leftover fabric and sold in our own stores – with profits donated to our new charity partner, The Red Cross. Masai will continue to focus on zero material waste.

To buy the necklace and support this initiative, please visit your local Masai store.
New technology is driving a fast-paced development in this area, and Masai ensures it keeps up to date, to enable us to continuously make the most sustainable choices.
Care Guide
At Masai we design for you to enjoy your items for a long time. Each piece can be worn season after season, and we would like you to see your Masai wardrobe as a work in progress – something you can add to, rather than something you need to completely change every season. With the help of this care guide, not only will your items last longer, but you will also make more sustainable choices as you find joy in each item for seasons to come. Caring for your garments is also the environmentally responsible thing to do and, as love is in the detail and we are committed to thoughtfulness, we believe every little act of care counts.

Here you'll find general care information and guidelines to make sure your Masai items stay beautiful for as long as possible. Please be aware that each design and all the materials are different, so they will have slightly different care requirements. We have sewn a care label into each item, so please have a look at that too.
An ongoing Commitment
The landscape of CSR and Sustainability is ever-changing and changes are more fast-paced than ever, making it increasingly harder and more complex to navigate. However, even though the challenge may seem invincible at times, we all have a responsibility to engage, to seek knowledge and to drive innovation wherever we can.

In the past year, Masai has taken steps in several areas – something that we would also like to share more with our stakeholders, both internal and external, as we recognize the interest and relevance of sharing our progress. We want to be transparent about how we act as a company, but also constantly reassess our approach, and analyse, learn and investigate to be part of a process of continuous, positive change.

We have many projects in the pipeline and we look forward to presenting more initiatives, further and deeper commitments and new goals in 2020.

But no matter the area, Masai is committed to thoughtfulness.